Messi tax fraud trial set for May
Comments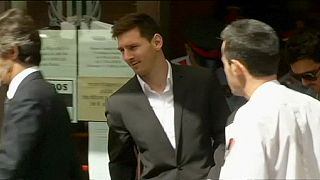 Lionel Messi's tax fraud case will be heard by a Barcelona court from May 31 through to June 3.
The five-time world player of the year and his father Jorge are accused of defrauding Spain's tax office of 4.1 million euros between 2007 and 2009 and could be sentenced to nearly two years in prison if found guilty.
The trial will come just three days after the Champions League final, while potentially overlapping with the first day of the Copa America, meaning the Argentina star will not have the best of preparations ahead of the tournament which will take place in the United States.
According to reports, Messi's lawyers are expected to try to change the trial dates.
Lionel Messi's tax fraud trial in Spain conflicts with Copa America tournament https://t.co/5W9oCN2rBOpic.twitter.com/k3IxP2tsxf

— CP24 (@CP24) 20 Janvier 2016