Turkish and British PMs hold bilateral talks in London
Comments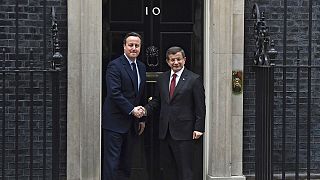 Turkish Prime Minister Ahmet Davutoglu is in London for bilateral talks with British premier David Cameron. The two leaders discussed the conflicts in Syria and in Iraq, negotiations on Cyprus unification and counter terrorism measures.
Last week a bomb attack in Istanbul left 10 people dead. Ankara has blamed ISIL militants.
While the talks were going on, Kurds living in London protested against the Turkish premier's visit. In recent months the mainly Kurdish region of south east Turkey has experienced its worst violence in decades as the Turkish military seeks to eradicate what the government calls "the PKK threat". The Kurdistan Workers Party (PKK) which is seeking autonomy for the region, is deemed a terrorist organisation by the Turkey and other governments.
Prime Minister Davutoglu will speak at a round table discussion at think-tank Chatham House on Tuesday before leaving for the World Economic Forum in Davos in Switzerland.