Putting out the Ritz blaze brakes out glitzy hotel in Paris
Comments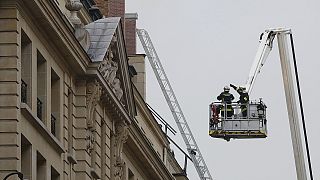 A major fire has broken out at the prestigious Ritz hotel in Paris.
Breaking: Fire breaks out in the Ritz Hotel in Paris via pfroissart</a> <a href="https://t.co/iBBisjJKMq">pic.twitter.com/iBBisjJKMq</a></p>&mdash; Derek Momodu (DelMody) January 19, 2016
Around 60 firefighters are on hand to battle the blaze, which started on the seventh floor.
The hotel is currently closed to the public while renovation work is carried out.
[FIRE] https://t.co/bgYJpyiBtD

— Le Vrai Paris (@LeVraiParis) January 19, 2016
Two hundred workers have been evacuated from the building.
No one has been injured in fire.
Fire ravages top floor of Ritz hotel in Paris: Fire engulfed the top floor of Paris' Ritz Carlton hotel on Tue… https://t.co/o3iPYt0NJm

— FACE2FACE2K8 (@FACE2FACE2K8) January 19, 2016
The hotel has been closed since August 2012 and was due to reopen in March this year.
It is unclear if the damage caused in the fire will delay the re-opening.
The hotel is a favourite among the well-heeled it is the former home of Coco Chanel and the place where Princess Diana and Dodi al Fayed stayed the night before their fatal car crash in 1997.