Iran's supreme leader warns against US 'deceit and treachery'
Comments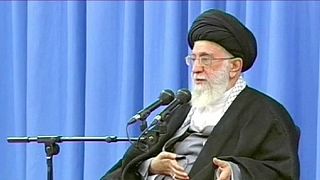 Iran's supreme leader has welcomed the lifting of sanctions against Tehran.
Ayatollah Ali Khamenei warned that his country remain wary of its old enemy the United States.
In his first comments since most EU sanctions were lifted along with many important US embargoes, Iran's highest authority made it clear that Washington should be treated with suspicion.
"I reiterate the need to be vigilant about the deceit and treachery of arrogant countries, especially the United States, in this [nuclear]issue and other issues," Khamenei said.
"Be careful that the other side fully meets its commitments. The comments made by some American politicians in last two, three days are suspicious," he added.
Continues below
Iran's Leader: US remarks 'cause for suspicion' https://t.co/o64N7jTUX1khamenei_ir</a> <a href="https://t.co/duNhsme5Uw">pic.twitter.com/duNhsme5Uw</a></p>&mdash; Press TV (PressTV) January 19, 2016
32 billion dollars of assets unfrozen
Meanwhile the head of Iran's central bank said the country is now able to access 32 billion dollars in unfrozen assets.
The restrictions were lifted after Iran implemented its side of a July deal with world powers restricting Tehran's atomic activities.
Iran's economy suffered greatly under the sanctions which targeted its nuclear and financial systems.
.