Eagles guitarist and co-founder Glenn Frey dies aged 67
Comments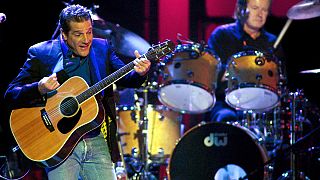 Tributes have poured in after the announcement that American guitarist Glenn Frey who was a founding member of the Southern California rock group, the Eagles, has died at the age of 67.
A message on the band's website said he'd died of complications from rheumatoid arthritis and pneumonia.
The Detroit-born Frey and drummer and singer Don Henley co-founded the Eagles in 1971 in Los Angeles after playing as a backup band for rock singer Linda Ronstadt.
The Eagles became one of the most popular bands of the 1970s with their blend of rock with country music influences.
Frey co-wrote many of their seminal 1970s hits including "Take it Easy", "Already Gone" and the unforgettable "Hotel California".
The Eagles were inducted into the Rock and Roll Hall of Fame in 1998.
RIP Buffin and Glen Frey. Some great days – in our memories for a little while longer. I'm finding this month pretty sad. Bri

— Dr. Brian May (@DrBrianMay) January 18, 2016
And now we have lost the wonderful writing and voice of Glen Frey… #RIPGlennFrey So much talent taken from us too soon this year already..

— Michael Ball

OBE

(@mrmichaelball) January 18, 2016