Ukraine says cyber attack on Kyiv airport was launched from Russia
Comments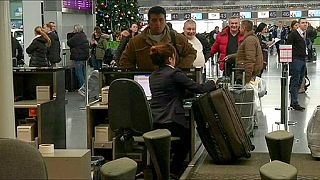 Ukraine says that a cyber attack on Kyiv's main airport was launched from a server in Russia.
Malware found in an airport computer has prompted a review of how government computer systems are defended.
There is no suggestion of Russian state involvement but it comes amid badly-strained relations over Ukraine's separatist conflict.
"Preliminary investigations lead us to believe that the virus came from the territory of the Russian Federation," Ukrainian military spokesman Andriy Lysenko told reporters.
"That is why we have grounds to believe that it was a cyber attack."
Ukraine says a major cyberattack on Kiev airport was launched from Russia https://t.co/QvpOpIiJLy

— The Independent (@Independent) 18 Janvier 2016
The malware at Boryspil airport was detected last week in an IT network that includes air traffic control.
It is described as similar to malicious software which attacked three Ukrainian power firms in December, causing short-term blackouts.
Ukraine's Computer Emergency Response Team has warned over possible further virus attacks.
Russia has in the recent past complained that it itself has become a target, saying Russian security services have detected a sharp rise in cyber attacks after the Ukraine crisis worsened and ties with the West deteriorated.