Syria conflict: Question mark over next round of peace talks
Comments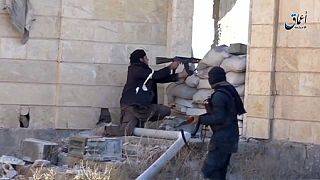 Officially, the next round of peace talks for Syria is due to start in Geneva on January 25.
But UN diplomats say a delay looks increasingly likely, with the sticking point continuing to be confusion over which rebel representatives should attend.
"At this stage, the UN will proceed with issuing invitations when the countries spearheading the International Syria Support Group process come to an understanding on who among the opposition should be invited," UN spokesman Farhan Haq told reporters.
"The Secretary-General urges those countries to redouble efforts to reach that agreement."
At odds over President Assad's future, the leaders of Russia and Qatar met in Moscow on Monday.
Hosted by President Vladimir Putin, the Emir of Qatar, Sheikh Tamim bin Hamad al-Thani, is in Russia for a two-day visit aimed at discussing the Middle East and energy, according to local news agencies.
Speaking on the Syria talks, Russian Foreign Minister Sergei Lavrov rolled optimism and prudence into one.
"Qatar and Russia expect that, in accordance with a UN-backed plan, talks between the Syrian government and the opposition will begin in the nearest future, this month," he said.
The consequences of the conflict continue to be felt beyond Syria's borders.
A woman was killed and a female student wounded on Monday when a rocket thought to have been fired from Syria struck a school in southeastern Turkey.
Turkish army radar showed shots were fired into the border province of Kilis from ISIL outposts inside Syria, military sources operating in the area told Reuters, adding that the army had retaliated "in kind".
Turkish military responds after rocket kills woman in city bordering Syria https://t.co/N420dbyF0zpic.twitter.com/eJ4H4wp9m4

— Hurriyet Daily News (@HDNER) 18 Janvier 2016