SpaceX launches ocean monitoring satellite
Comments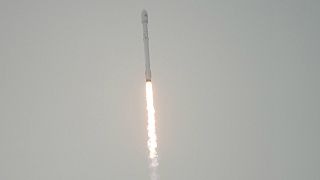 A SpaceX Falcon 9 rocket blasted off from California on Sunday putting a climate-monitoring satellite into orbit.
The Jason-3 will help improve our understanding of the oceans by tracking tides, winds and wave heights and measure sea levels.
However an attempted return landing by the bottom half of the Falcon rocket was unsuccessful.
SpaceX Properly Launches Satellite, Unsuccessfully Lands Rocket… – https://t.co/KZv1ImjL9qpic.twitter.com/EPUQM4fDQe

— Viral Buzz News (@VIralBuzzNewss) January 17, 2016
Scientists had hoped to land it on a sea barge but the booster was reported to have hit the platform too hard, breaking a landing leg and toppling over.
The rocket company managed a historic first controlled return of an orbital stage last month.