Poland: Activists call for Bialowieza Forest to be protected
Comments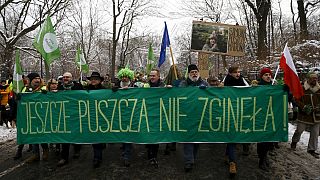 Several hundred green activists have staged a protest in Warsaw against the felling of thousands of diseased trees one of Europe's oldest woodlands, the Bialowieza Forest.
The trees are suffering from spruce bark beetle but defenders say the forest can regenerate itself by its own natural powers. The government says up to 400,000 trees will have to go.
Often called the "last untouched wilderness of Europe", the Białowieża National Park is the only one of its kind among the 23 national parks of Poland. Its inner zone belongs to the realm of old-growth forest which has been living without much human intervention for almost 800 years. Only scientists can navigate the strictly protected area freely.
Poland Pristine Forest: Protesters march to demand full protection of the Bialowieza Forest, in Warsaw, Poland… https://t.co/ENjAKM9WiZ

— Poland News Links (@dlpolandnews) January 17, 2016