ISIL accused of firing rockets from Syria at Turkish schools
Comments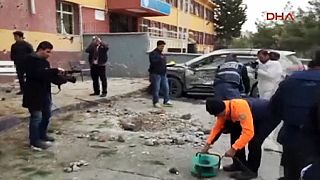 At least three rockets were fired into Turkey from Syria on Monday aimed at the border city of Kilis.
One struck two schools, killing at least one person and injuring several others. Several other schools for the region are nearby, and the rockets were fired from ISIL positions in the 100-kilometre-long stretch of Turkey's border with Syria that they control.
Turkish military radar confirmed that the rocket had been fired from known ISIL positions, and the army said it had immediately gone onto the offensive to find those responsible.
It is nearly six years since the start of the Syrian crisis, and frontier towns and cities have often fallen victim to cross-border shelling in the past. Now, from dealing with overspill from the civil war, Turkey is facing direct assaults from ISIL.