France: 'Jungle' migrant camp is partly demolished
Comments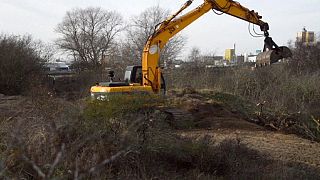 The makeshift migrant camp on France's northern coast known as 'The Jungle' is being partially demolished.
Officially, part of the sprawling site, near a motorway, is being cleared for security reasons.
For authorities though it will help keep migrants from achieving their objective – jumping onto lorries bound for Britain, the destination that most of the camp's estimated 4,000 residents from poor and strife-torn countries outside the EU
want to reach.
Britain has declined to admit any migrants from Calais or anywhere else in Europe, saying this would only spur more to stream into the continent, instead taking only some from refugee camps in Middle East countries neighbouring Syria.
To house some living in the squalor in Calais, France has just opened a shelter made of converted shipping containers – although some migrants have refused to move in, describing it as like a prison.
Calais bulldozers burned and containers graffitied ahead of 'Jungle' clearing https://t.co/hi6vF6tCzcpic.twitter.com/1Z8rQMhQn6

— The Telegraph (@Telegraph) 17 Janvier 2016