Taiwan election: experts predict win for pro-independence DPP
Comments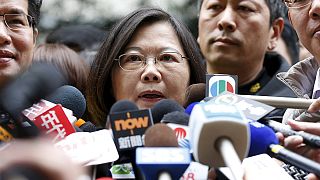 Taiwan has gone to the polls in elections which could prove crucial to its future relations with China.
Outgoing president Ma Ying-jeou and his Kuomintang party have sought to warm ties with Beijing.
He is backing fellow KMT member Eric Chu to take over from him. The Mayor of New Taipei City has been the party chairman since October, 2015.
But the Nationalists seem likely to lose out to the opposition Democratic Progressive Party — or DPP — led by Tsai Ing-wen.
She has not made her stance towards China clear, however the party is, historically, pro-independence and does not recognise the two nations as part of "one China."
If the 59-year-old wins, it will be only the second victory for the party and Tsai will become the island country's first female leader.
Success for the DPP would see the island move away from decades of mostly KMT rule and edge towards a system where voters choose to transfer power between parties.
With voters increasingly dissatisfied with the current administration's friendly attitude towards Beijing and Taiwan going through recession, this is the outcome that seems the most likely.