Turkey detains academics over critical petition
Comments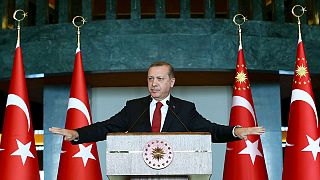 Turkish police on Friday (Jan. 15) arrested at least 14 academics over a petition criticising a military crackdown on Kurdish activists.
The text drew more than 1,000 supporters, including U.S. linguist and philosopher Noam Chomsky, and urged Ankara to stop what it labeled "a deliberate massacre".
President Recep Tayyip Erdogan would have none of it. He slammed the signatories of the petition as "despicable" and accused them of supporting the outlawed Kurdistan Workers' Party (PKK), which is considered a terrorist organisation by Turkey as well as the EU and the United States.
"I strongly condemn those academics who issued a somber declaration, who put their signatures under those massacres, especially in the light of recent developments," Erdogan said, speaking at the scene of Tuesday's deadly suicide bombing in Istanbul, which Turkey has blamed on ISIL.
The petition was inspired by escalating violence in southeastern Turkey between government forces and the PKK, which has been fighting since 1984, first for and independent Kurdistan and now for Kurdish autonomy.
Since a ceasefire broke down last July, military operations and curfews have aimed to pound PKK positions and weed out rebels. But critics say dozens of civilians have died as a result.