Dakar Rally: Price and Peterhansel close in on Dakar titles
Comments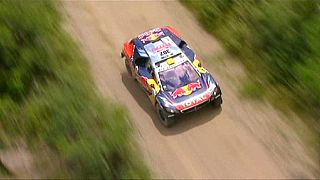 Helder Rodriguez won the penultimate stage of the Dakar Rally on Friday for his first victory in the 38th edition of race.
The Portuguese Yamaha rider was seven minutes clear of overall race leader Toby Price who is now one stage away from becoming the first Australian to win the world's most prestigious rally raid.
Kevin Benavides was third over the 481 kilometre special between San Juan and Villa Carlos Paz in his native Argentina.
Price is now just under 38 minutes clear of Slovakia's Stefan Svitko and bar accident should be triumphant in Rosario on Saturday.
In the cars category Finland's Mikko Hirvonen led a mini one-two to stage 12 honours for his first victory in his debut appearance in the Dakar.
Teammate and defending cars champion Nasser Al-Attiyah completed the semi-mountainous challenge in second place with South Africa's Leeroy Poulter in third.
Overall Frenchman Stephane Peterhansel, who was ninth on the day, holds a healthy 41 minute lead over Al-Attiyah as he edged closer to a record-extending 12th title.