Botched drug trial leaves six in serious condition in France
Comments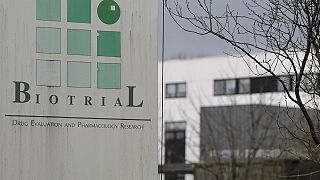 One person is in a coma and five others are in a serious condition in France after taking part in a drugs trial that went wrong.
The trial took place at a clinic in the city of Rennes in the north of the country. French media say the trial was for a painkiller containing cannabis, although it has not been revealed which pharmaceutical company was behind the testing.
Britain's GW Pharma, which markets an approved cannabis-derived treatment for spasticity caused by Multiple Sclerosis, said it was not involved in the trial.
#Cannabis 'Cannabis-based' drug trial in France leaves person 'brain-dead': French media reports said th… https://t.co/WAtT2F6gSU#News

— Cannabis Lobby News (@Cannabis_Lobby) 15 Janvier 2016
All the volunteers were said to have been in good health prior to starting the drug trial.
"In phase 1, it's very rare, because the people who take part are very healthy and the doses are under close control. On the more advanced trials, when those are on patients with sometimes serious illnesses, and the trial is about contrasting the new product with a reference medicine, there can be deaths".
The trials, carried out at a specialised private facility, have now been suspended and all those who took part in testing the drug have been called for medical assessment.