Tunisia marks 5th anniversary of revolution with pride, and frustration
Comments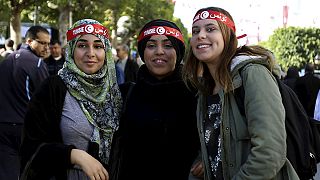 When a young and desperate Tunisian street vendor set himself on fire in December 2010, little did the world know his death would spark the uprising we now call the Arab Spring.
The weeks of demonstrations that spread across the country unseated leader Ben Ali after 23 years of repressive rule.
Five years later, Tunisians have mixed feelings about their revolution.
To mark the anniversary, Tunisian president Beji Caid Essebsi said: "There are studies that show that 73 percent of Tunisians are optimistic, as they see that the security situation is continuously improving and that the most important thing we've gained since the revolution is freedom."
But on the streets, many are still angry.
Poverty and unemployment remain high, and a surge in jihadist violence has hit the country's vital tourism industry.
Critics have also warned of a return to some of Ben Ali's authoritarian practices.
"The thing I find essential for Tunisia is justice," said Skander Ben Hamda, a young blogger who was very active on social media during the 2011 uprising.
"We really need less impunity, because what we have today is not a problem of corruption or abuse of power. The real problem is the problem of impunity."
Still, many Tunisians are proud of their country's revolution. Since 2011, Tunisia has held two free elections, voted a new constitution and last year its National Dialogue Quartet even won the Nobel Peace Prize for helping the transition to democracy.