Obama's foreign policy appeal in Congress combines force with diplomacy
Comments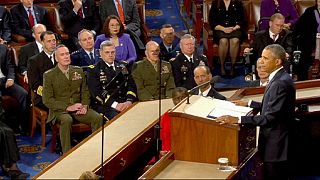 President Obama has told the US Congress that American foreign policy must prepare beyond the priority of defeating ISIL and al Qaeda.
On issues of global concern, we will mobilise the world to work with us.
He says it must continue to develop strategic coalitions able to tackle global threats:
"If this Congress is serious about winning this war, and wants to send a message to our troops and the world, authorise the use of military force against ISIL. Take a vote. But the American people should know that with or without Congressional action, ISIL will learn the same lessons as terrorists before them. If you doubt America's commitment or mine to see that justice is done, just ask Osama bin Laden.
"On issues of global concern, we will mobilise the world to work with us. That's why we built a global coalition, with sanctions and principled diplomacy, to prevent a nuclear-armed Iran, and as we speak Iran has rolled back its nuclear program, shipped out its uranium stockpile, and the world has avoided another war."
As well as avoiding war, Obama is into mending fences: in 2015 the USA and Cuba reestablished diplomatic relations.
Obama restates an old promise about Guantanamo, which is on land leased from the island still under an economic embargo:
"Fifty years of isolating Cuba had failed to promote democracy. It set us back in Latin America. So if you want to consolidate our leadership and credibility in the hemisphere, recognise that the Cold War is over. Lift the embargo.
"We will keep working to shut down the prison at Guantanamo: it is expensive, it is unnecessary, and it only serves as a recruitment brochure for our enemies."
The president also took pains to promote energy transitions, and the relevance of science given the impact it has on economics.
He refers to the COP21 agreement reached in Paris in December:
"If anybody still wants to dispute the science around climate change, have at it. You'll be pretty lonely, because you'll be debating our military, most of America's business leaders, the majority of the American people, almost the entire scientific community, and 200 nations around the world who agree it's a problem and intend to solve it."