Junior doctors in England strike over government reforms
Comments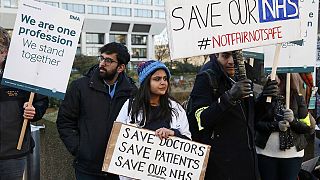 Thousands of junior doctors across England have staged their first strike in 40 years over government plans to reform pay and working conditions.
Doctors say the fatigue induced by the terms of a new working contract could put patients lives at risk.
The National Health Service (NHS), which delivers free care for all and accounts for a third of government spending on public services, is typically one of the most important issues for voters during elections.
The new contract is part of moves by the government to deliver what it says will be a consistent service seven days a week with studies showing mortality rates are higher at weekends when staffing is reduced.
The doctors' union the British Medical Association (BMA) said the contract does not provide proper safeguards against doctors working dangerously long hours.
The union is planning another 48-hour stoppage later this month and a full withdrawal of labour, including emergency care, for nine hours on Feb. 10.
Explainer: Why are doctors on strike in England? https://t.co/iPEjumROofpic.twitter.com/zA4NUYnvJN

— Financial Times (@FT) January 12, 2016