Israeli forces kill three Palestinians in West bank in latest round of violence
Comments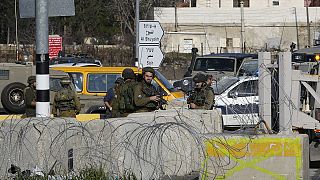 Israeli soldiers have shot dead three Palestinians in the occupied West Bank including one the military said had tried to stab a soldier.
In recent months a wave of Palestinians stabbings, car rammings and shooting attacks have killed 24 Israelis. Over 140 Palestinian have been killed by Israeli forces as tensions between the two sides continue to simmer.
Rights groups have accused Israel of using excessive force to quell the unrest and Sweden has called for an investigation.
The surge in violence has been fuelled by the 2014 collapse of U.S.-sponsored peace talks, the growth of Jewish settlements on land Palestinians want for a state and Islamist calls for the destruction of Israel.
Also stoking the violence has been Muslim opposition to increased Israeli visits to Jerusalem's al Aqsa mosque complex, which is the third holiest site in Islam and is also revered in Judaism as the location of two biblical temples.
I