Israel summons Swedish diplomat after 'delusional' Palestinian comments
Comments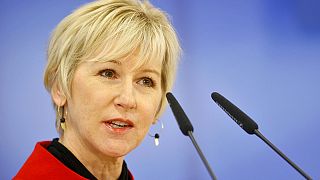 Israel has summoned the Swedish ambassador after the country's foreign minister called for a probe into claims by human rights groups. that Israeli forces have carried out extrajudicial killings of Palestinians.
The claims come amid a surge of Palestinian street attacks.
"…that the Israeli response was reportedly disproportionate to the degree that extrajudicial killings could be strongly suspected," said Swedish foreign minister Margot Wallström. "Human rights groups and international law experts have expressed similar concerns. It is vital that there are thorough, credible investigations into these deaths in order to clarify and bring about possible accountability."
Israel has rejected the minister's statement as "delusional."
The European Union, the US and the United Nations have all expressed concern, saying that while they recognise Israel's right to self-defence, restraint is necessary to ensure the violence does not escalate further.
Some 170 Palestinians and 26 Israelis were killed during 2015 in attacks in the occupied territories and Israel, according to data from the United Nations Office for the Coordination of Humanitarian Affairs. Most since October's surge in violence, fueled in part by increased Jewish presence in areas also revered by Palestinians, the growth of Jewish settlements on land Palestinians want for a state, and frustration over the collapse of peace talks.