Turkey imposes visa requirements on Syrians arriving by air and sea from third countries
Comments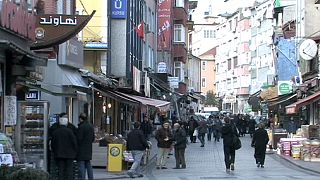 New restrictions on Syrians entering Turkey have come into force.
As part of efforts to stop the flow of migrants to Europe, Ankara has imposed visa requirements on Syrians arriving in Turkey by air and sea from third countries.
It is already reported that some 400 Syrians transiting through Beirut were refused boarding on two flights and had to return to Damascus.
Osman Atalay from the Humanitarian Relief Foundation said: "Sometimes unwanted groups or individuals with bad intentions could enter Turkey from Syria, it does happen.
"The flow of people should be controlled with measures. Turkey is already accepting refugees and migrants who escape from Syria."
Turkey says its land border will remain open to migrants, a policy in place since the start of the Syrian civil war in 2011.
The EU has promised Ankara three billion euros in aid if it does more to stop the flow of migrants headed for Europe.
Our correspondent in Istanbul, Bora Bayraktar, reported: "The visa requirement for Syrians at the seaports and airports are discussed within the framework of fighting terror and crime.
"The two million Syrian refugees living here seem unconcerned about this new measure since it does not affect their situation."