Democrats reflect as Republicans criticise Obama's final State of the Union
Comments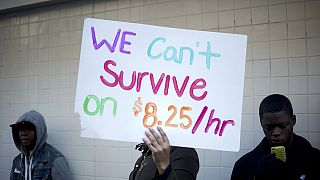 The US has been digesting the seventh and final State of the Union Address by President Barack Obama.
Watch Obama get a little nostalgic after his final State of the Union https://t.co/8LpS0GVYMZpic.twitter.com/fYydVN4g3s

— Huffington Post (@HuffingtonPost) January 13, 2016
In the bars of Washington DC the president's speech was the main topic of conversation:"I think that he showed that the president leads the people by example, by calling them to come together, to work together, to set aside their differences and to really focus on the problems at hand," said one man tuned into the speech at the Capitol City Brewery.
Another watcher will miss the president:
"I think he is pretty relatable and he is pretty likeable. So I'm sad to see him go, I'm sad that this is the last one."
For the Democrats it was an occasion to reflect on Obama's two terms in office.
For the Republicans Obama's presidency lacked strength.
Ed Royce is the Republican Chairman of the House Foreign Affairs Committee:
"We need US leadership. We cannot be in a position where our policy is one of constantly backing down."
Euronews correspondent in Washington is Stefan Grobe: "It was the last grand opportunity for President Obama to lay out his accomplishments and his vision for America. He will now pass on the torch to the future Democratic nominee to fight for his agenda, Hillary Clinton or Bernie Sanders. And both face off in the next Democratic debate on Sunday."
More reaction from the State of the Union address.
Mitch McConnell, Senate majority leader
"We're already looking forward to have a new president…"
Rand Paul, Presidential candidate
"A leader with a record of failure"
Nikki Haley, Governor of South Carolina
"The President has fallen "