Istanbul blast: "I thought there was an earthquake"
Comments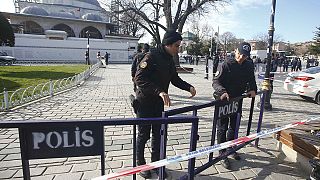 Turkish police have made clear the attack could have been much more devastating if the square, also known as the Hippodrome of Constantinople, had been densely packed at the time of the explosion.
Our correspondent in Istanbul spoke to eyewitnesses in the immediate aftermath of the blast.
"I thought there was an earthquake… the ground was shaking. We saw dead bodies and other people who were injured lying on the ground. After a few minutes police came and cordoned off the area. Ambulances arrived. Everyone was panicking," said one man.
Other tourists were unaware of the extent or effects of the explosion.
"I don't know so much.. Because.. I feel okay because I don't know so much but now you told me that they died, ten persons, so I feel worried," said Oscar, a Spanish tourist.
Nearby popular tourist sites, like Hagia Sophia and the Basilica Cistern have been closed until further notice.