US flies B-52 bomber near Korean border after Pyongyang nuclear test
Comments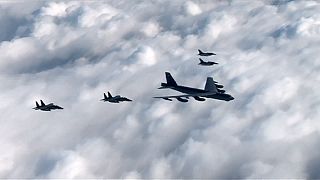 As tensions heighten further on the Korean peninsula, the United States has put on a show of strength.
Following North Korea's nuclear test, the US air force has flown a B-52 bomber over its ally South Korea. The low-level flight took the bomber over an air base close to the border between the two Koreas.
US and South Korean statements
Terrence O'Shaughnessy, 7th Air Force Commander and Lieutenant General of the US Forces in Korea, confirmed its commitment to Seoul:
"The United States remains steadfast in its commitment to the defence of the Republic of Korea (South Korea) and maintaining the stability on the Korean Peninsula to include extended deterrence provided by our conventional forces and our nuclear umbrella."
Lee Wang-keun, South Korea's Air Forces Operations Commander, said his forces were prepared for any eventuality:
"Our air force is ready to punish any provocations firmly and strongly whenever, wherever, and in whatever shape they may be."
North Korea says…
Pyongyang says last week's test was a self-defensive step against a US threat of nuclear war.
North Korea's KCNA state media quoted leader Kim Jong-un as saying:
"The DPRK's H-bomb test … is a self-defensive step for reliably defending the peace on the Korean peninsula and the regional security from the danger of nuclear war caused by the US-led imperialists."
His claim North Korea tested a hydrogen bomb has drawn scepticism from the US government and weapons experts.
The two Koreas are technically still at war after a truce was declared in 1953, but no peace treaty signed.
Japanese military drills
As tensions heighten between its neighbours, Japan's elite Self Defence Force paratroopers held annual drills. The country is in the throes of a territorial dispute with China over the East China Sea.
The Self Defence Force — or SDF — is one of the few units on standby for rapid deployment.
Speaking following the drill, Japan's defence minister, Gen Nakatani, said the SDF needed to be prepared for any emergency that may arise and labelled North Korea's conduct unacceptable.
"North Korea has been developing and testing nuclear weapons and it conducted the fourth nuclear test on the 6th of this month. Japan can never accept this conduct," he said.
"The Self Defence Force is tasked with protecting the lives of people, their property and freedom, as well as our land, sky and seas," Nakatani added. "In order to be able to protect, there is a need for the Self Defence Force to be able to respond to any sort of emergency that may arise."