Ullevalseter retains Africa Eco Race crown
Comments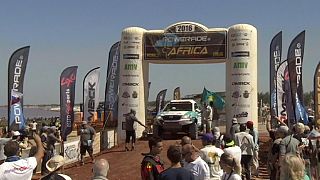 Norway's Pal Anders Ullevalseter held his nerve to clinch the 8th edition of the Africa Eco Race on Sunday.
The 47-year-old looked in control throughout the final event and completed the 22km trek from Saint Louis to Dakar in a winning time of 11 minutes.
Ullevalseter, who had already won the previous edition, outclassed French pair Julien Sanchez and Norbert Dubois.
This result sees him win the event with a huge 6 hour, 2 minute and 40 second lead over Britain's Andrew Newland with Stephane Hamard completing the podium.
In the four-wheel category, Kanat Shagirov held on to top spot after ending the day in 23rd place. The Khazak driver finished 4 minutes and 41 seconds behind stage winner Philippe Gosselin while Opel driver Balazs Szalay coming home third.
Portugal's Ricardo Leal Dos Santos and Philippe Porcheron of France finished third and fourth respectively.
In the overall standings, Shagirov is 24 minutes and 48 seconds ahead of Pascal Thomasse with Mathieu Serradori having to settle for third place.