CCTV shows fight between doctor and patient in Russia
Comments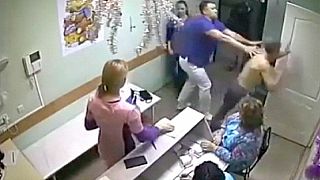 Scroll down to see the video
CCTV footage is circulating on the internet showing a Russian doctor in a confrontation with a patient who later died.
The incident took place in the city of Belgorod, 670km (440 miles) south of the capital, Moscow, on 29 December.
Officials say the patient is believed to have tried to attack a nurse. The doctor went to defend her.
He has been charged with manslaughter.
WARNING

: video contains scenes of extreme violence