Suspect in New Year's Day shooting rampage killed by police in Israel
Comments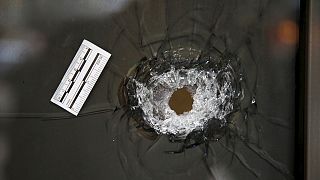 A man suspected of carrying out a shooting rampage in Israel on New Year's Day has been shot and killed by police.
Arab citizen Nashat Melham was accused of killing three people, in an attack in which the motive remains unclear.
Some reports say Melham was shot dead at a mosque in a northern Arab town; other reports say he was killed outside a building he was using as a hideout.
Israeli media report that Melham attempted to escape and pointed a gun at officers.
The police launched a massive manhunt after the shooting rampage, carrying out door to door searches in numerous locations.
It is reported Melham was identified by relatives from the CCTV footage of the Tel Aviv shooting.