Paris: doubts over the identity of man shot outside police station
Comments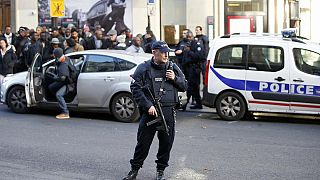 Doubt over identity of man shot in Paris
Prints match Moroccan arrested in southern France in 2012
ID papers on body indicate Tunisian
national
Man shot by Paris police shouted Allahu Akbar, may have worn suicide belt: https://t.co/fo8AUMCbpDpic.twitter.com/OTj53AQ0FS

— Reuters Top News (@Reuters) January 7, 2016
There is doubt over the identity of a man shot dead by police in Paris yesterday.
The authorities are trying to establish whether the man was a significant threat or was acting alone.
Paris shooting latest: man shot dead searched by anti-explosive robot https://t.co/bkycJDA4Qgpic.twitter.com/SJgHzvd3YH

— The Telegraph (@Telegraph) January 7, 2016
He was killed as he tried to enter a police station while wielding a meat cleaver. Eyewitnesses say he shouted "Allahu Akbar" (God is Greatest).
He was equipped with what turned out to be a fake suicide belt.
Paris shooting: Suicide vest 'was fake', police sources say https://t.co/rjjuoqEHzfpic.twitter.com/jgAUOOCPVv

—

ITV

News (@itvnews) January 7, 2016
The incident took place on the first anniversary of the attack on the Charlie Hebdo magazine in the French capital.
Doubts over identity
Paris prosecutor casts new doubt on identity of shot man https://t.co/SjmiQTE2sF

— Classic White (@ClassicWhite_k) January 8, 2016
Paris Prosecutor Francois Molins told French radio the man may have given a false identity when arrested last year.
Officials say the dead man was Ali Sallah, a Moroccan born in 1995 in Casablanca.
He was known to police, having been arrested for theft in the south of France in 2012. He also told police his name was Sallah when he was arrested again last year.
However, papers found on the body in Paris carry a different name and indicate someone of Tunisian nationality.