Chavez portraits removal sparks Caracas protest
Comments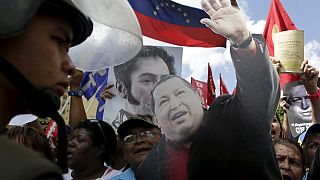 Pro-government supporters in Venezuelan capital Caracas held an emotional rally in the Plaza Bolivar on Thursday (January 7).
The crowd came out to protest the removal of portraits and pictures of deceased president Hugo Chavez from the National Assembly building, as ordered by incoming opposition member and now President of the National Assembly Henry Ramos.
Waving photos of Chavez and Simon Bolivar the pro-government supporters shouted slogans and sang the National anthem some with tears in their eyes.
Congress is now governed by the opposition ending Chavistas' control of the legislative body for the first time in 17 years.
AP