Africa Eco Race: Ullevalseter and Gerard win stage 10
Comments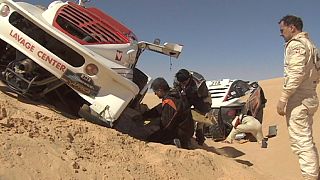 Pal Anders Ullevalseter's domination of this year's Africa Eco Race has been impressive and the Norwegian once again topped the motorcycle podium as his bid for a second straight title looks inevitable.
The KTM rider won stage 10 – a 378,92 km test around Akjoujt – for his eighth victory in the eighth edition of the race.
British teammate Andrew Newland has also been consistent podium visitor this year and a second place finish on Friday lifted him to second overall albeit a massive five hours and 57 minutes off the pace.
Jose Sousa Jr from Portugal completed a KTM sweep of the stage ten podium.
French drivers have been doing well this edition and David Gerard continued his nation's assault on the race by winning the stage in the car category.
He steered his Optimus MD to a frnehc one-two-three ahead of teammate Guillaume Gomez and Volkswagen's Patrick Martin.
Overall cars leader Kanat Shagirov was fourth on the day and enjoys a slender 26 minute lead over Frenchman Pascal Thomasse.
Three-times champion Tomas Tomecek won the stage in the trucks category in his Tatra but Russia's Anton Shibalov who was second remains some two hours and 40 minutes clear of his Czech rival as he looks to defend his title.