Venezuelan power struggle between Maduro government and legislature deepens
Comments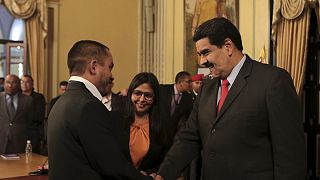 Venezuelan President Nicolas Maduro has named new economy and finance ministers in a policy change as he tries to counter the country's economic crisis. Recession-hit Venezuela has the highest inflation in the world and is suffering widespread shortages of basic products.
Rodolfo Medina becomes finance minister and Luis Salas is to head a new ministry for economic productivity.
The move comes as tensions intensify between the government and a new opposition-led National Assembly.
Venezuela's opposition took majority control of the National Assembly on Tuesday (January 5) after years in the political wilderness, setting the stage for a potential power struggle with embattled President Maduro.
It's the first time in 17 years, since elections in December 1998, that opponents of the socialist revolution begun by the late President Hugo Chavez have held a majority in the legislature.
Earlier opposition lawmakers swore in three deputies who had been disqualified by the country's Supreme Court, restoring their so-called supermajority of 112 seats in the 167-seat in the Assembly giving it widespread powers to oppose Maduro's government.
And at the start of their first day in office opposition members pushed through an order to remove of all images of deceased president Hugo Chavez from the Assembly building.
It was claimed to be necessary to reflect political impartiality but analysts see it as part of the deepening power struggle with Socialist President Maduro.