Tributes pour in after death of experimental composer and conductor Pierre Boulez
Comments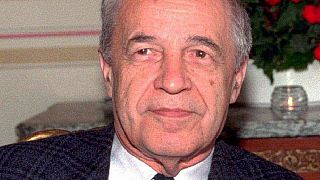 Tributes have poured in for the French experimental composer and conductor Pierre Boulez who has died at the age of 90.
The French President said Boulez had been a beacon for French music around the world.
Boulez had already made his name in classical music when he began to branch out into something more original.
"It's really a cliché to say 'contemporary music is so boring, so simple'," he once said.
"Not at all. We have a lot of fun and I'm convinced there is more fun to be had than with classical music, because we have less respect for it."
Boulez conducted some of the world's most famous orchestras, especially the work of 20th century composers.
He also ventured into use of electronic sound in orchestral pieces and encouraged performers to play with what he termed "controlled chance", improvising their own sounds.
His life was honoured with an exhibition at the Philharmonie de Paris last year.
Pierre Boulez radically changed music itself as well as its reception in society DBarenboim</a> <a href="https://t.co/uooL513Mgw">https://t.co/uooL513Mgw</a> <a href="https://t.co/ibwBZF96yB">pic.twitter.com/ibwBZF96yB</a></p>&mdash; Philharmonie Paris (philharmonie) January 6, 2016
RIP the great Pierre Boulez. Here's how he changed the world: https://t.co/GLUpwV8UQv

— Classic FM (@ClassicFM) January 6, 2016
Pierre Boulez worked at the BBC for four years. He left quite an impression: https://t.co/HXX0Ys3Byspic.twitter.com/hPxGe6C73f

—

BBC

Radio 3 (@BBCRadio3) January 6, 2016
Remembering Pierre Boulez
https://t.co/WOmJX50UHepic.twitter.com/im7rBEdjcO

— NY Philharmonic (@nyphil) January 6, 2016
Pierre Boulez, maverick composer and Frank Zappa collaborator, has died at age 90 https://t.co/VIsYccbeA3pic.twitter.com/0QrwLqIl4Y

— Rolling Stone (@RollingStone) January 6, 2016
Here's to Pierre Boulez (1925-2016): how many conductors performed the work of Frank Zappa? (AFP/Getty 1984) pic.twitter.com/2BzSuyWDyD

— John McMurtrie (@McMurtrieSF) January 6, 2016