'Je suis Charlie': Paris honours victims of Jan. 2015 Islamist militant attacks
Comments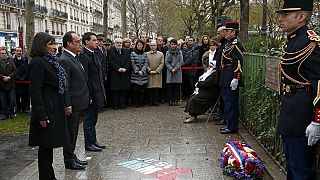 A commemorative plaque at the former office of satirical magazine Charlie Hebdo has been unveiled as part of a series of tributes on Tuesday, in the run-up to the anniversary of last January's Islamist militant killings in Paris.
The plaque featured the names of all those killed there, although celebrated cartoonist George Wolinski's name included a spelling mistake, which authorities said would be rectified quickly.
Bourde gravée dans le marbre : une ultime blague pour #Wolinski#JeSuisCharlyhttps://t.co/Fv079y1IJLpic.twitter.com/fB0G7zFYxl

— Marianne (@marianne2fr) 5 Janvier 2016
A total of 17 people were gunned down by fanatics between January 7-9, including at a Jewish supermarket where French President Francois Hollande and Paris Mayor Anne Hidalgo also paid their respects.
The three days of terror prompted a solidarity movement worldwide under the banner 'Je Suis Charlie'. But they proved to be a grim forerunner of the suicide bombings and shootings ten months later in Paris in which 130 people were killed.
On Sunday, a more public ceremony is planned at Place de la Republique, the square in eastern Paris that attracted mass rallies in favour of free speech and democratic values after the attacks and became an informal memorial.
Hollande will preside over the ceremony, during which a 10-metre-high commemorative oak tree will be planted.
Johnny Hallyday, the 72-year-old French rock giant, will perform his song "A Sunday in January" about several million people who marched in protest on the streets of French cities on the Sunday following the January attacks.
Known for ridiculing political and religious leaders, Charlie Hebdo has released a special anniversary edition with a cover showing an angry God with a Kalashnikov strapped to his back.
"One year later, the assassin is still on the run," the headline says.
One year later, Charlie Hebdo is still as defiant as ever https://t.co/i6pck7e9UIpic.twitter.com/v8zpjm7V5t

— New York Daily News (@NYDailyNews) 5 Janvier 2016
An editorial, released before publication, said the magazine would continue despite religious extremists who wanted to muzzle it.
"They won't be the ones to see Charlie die – Charlie will see them kick the bucket," it declared.