European shares tumble as worries over China intensify
Comments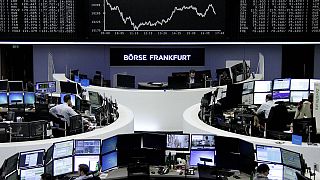 European markets fell sharply at opening on Thursday off the back of losses in China and across Asia.
Germany's DAX quickly declined by more than 3 percent.
In London, the FTSE 100 weakened by 2.3 percent while Paris began morning trading 3 percent down.
The pan-European FTSEurofirst 300 index and the euro zone's blue-chip Euro STOXX index fell 2.3 percent and 2.5 percent respectively.
The DAX and FTSEurofirst were both at their lowest level since early October, with the DAX some 20 percent below a record high reached in April 2015.
"It's looking pretty ugly. We've been scaling down equity positions. It's time to take a step back to re-evaluate the situation," said Andreas Clenow, hedge fund manager and chief investment officer at ACIES Asset Management.
The decline came after China accelerated the depreciation of the yuan, sending currencies across the region reeling and domestic stock markets tumbling.
The repercussions of the slowdown in China and the turbulence on its markets had already been felt on Monday and fragile investor confidence continues to take its toll.
#China and the global economy: what will 2016 bring? https://t.co/y49exE7dTP#economics#renminbipic.twitter.com/JI80kYIEgU

— World Economic Forum (@wef) 5 Janvier 2016