Saudi diplomats return from Tehran
Comments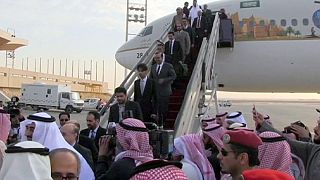 Saudi Arabian diplomats who had been based in Tehran have returned home to Riyadh's with stories of mistreatment at the hands of Iranian officials.
Their arrival follows their government's decision to cut ties with Saudi's main political and religious rival in the region following an attack on its embassy.
Leading embassy diplomat Mohammed al Otaibi told journalists at King Khalid International airport:
"We witnessed a complete destruction, they messed up the contents of the embassy (in Tehran), then there were three days of horror which we were forced to live through until we arrived here at the airport thank God." He went on to claim his staff had been forcibly searched.
An Iranian mob stormed the Saudi embassy, setting it alight on Saturday, following Riyadh's execution of the outspoken Shia cleric Sheikh Nimr al-Nimr.
Despite the breach in relations Saudi Arabia says it will not affect talks on Syria, another round of which is scheduled in Geneva this month.