German Chancellery cordoned off amid security fears
Comments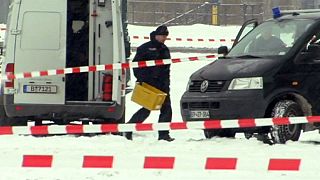 Police in Berlin cordoned off the German Federal Chancellery, the office of Angela Merkel, after a suspicious package was discovered.

MORE: Federal police investigating suspicious package found in #Merkel's office in Berlin https://t.co/qromrwWZiMpic.twitter.com/1UqpCNuFYH

— Sputnik (@SputnikInt) January 6, 2016
Authorities took the decision as ministers convened for a cabinet meeting.
The contents of four yellow postal boxes found at the main entrance to the chancellery have been examined.

Just getting in NEW video from Berlin where authorities are checking a suspicious package. #alertcenterpic.twitter.com/X5GiDMAIZs

— Caroline Patrickis (@Cpatrickis) January 6, 2016
Police say the contents posed no threat, but security protocols were observed.
The latest scare comes after police received a tip off that members of ISIL plan a terrorist attack in Munich.