Victims of Friday's deadly shooting in Tel Aviv are buried
Comments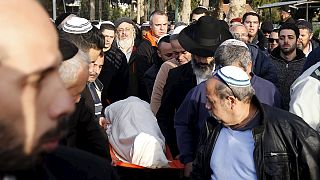 The funerals of two of the victims in Friday's deadly attack on a Tel Aviv bar have taken place in Israel.
Alon Bakal, 26, and Shimon Ruimi, 29 were buried on Sunday.
Police are still searching for the alleged shooter who they've named as 29-year-old Nashat Melhem, an Israeli Arab, described as mentally unstable.
Road blocks have been set up to stop the suspect escaping to the West Bank.
Security camera footage released shows the assailant browsing in a shop next to the bar pulling a machine pistol from his backpack and shooting wildly.
Israel has seen a wave of Palestinian street attacks since October, fueled in part by Muslim anger over stepped-up Jewish visits to Jerusalem's al-Aqsa mosque complex, which is also sacred to Jews.