Mexico mayor is mourned after her murder by four gunmen
Comments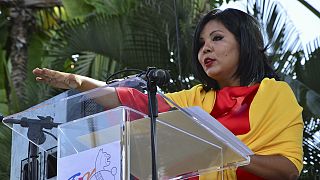 Mourners have turned out in large numbers following the murder of Mexico City mayor Gisela Mota who was gunned down at home by four attackers just one day after taking office.
Two of her alleged attackers have been killed and two more arrested according to a statement by local police.
Several mayors were killed last year in Mexico where armed gangs funded by the drugs trade control many local communities.
Mota, a former federal member of Congress, belonged to the leftist Party of the Democratic Revolution.
Mexico mayor Gisela Mota shot dead within hours of taking office https://t.co/SvyP4Hl1WH

— The Independent (@Independent) January 3, 2016