Denmark criticises Sweden's border checks to curb migrants
Comments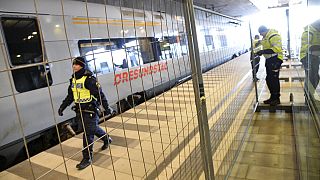 New border checks imposed by Sweden on travellers from Denmark have come into force, in a bid to curb the flow of refugees.
The Danish government has described the controls on trains, buses and ferries as "annoying", and suggested that Sweden foot the bill.
Trains crossing the Oresund bridge connecting the two countries are being held up at Copenhagen airport.
"It's a waste of time and just inconvenient for going home after work," said Michel Tamara, who commutes between Sweden and Denmark.
"For me it will mean that I have to change trains twice instead of going directly from Osterport (a railway station in Copenhagen) to Lund (in Sweden). It's the first time today, so I do not know how much longer the journey time will be for me, but I figure it'll last a minimum of 90 minutes instead of one hour," added Silke Engelholm, a doctor.
However first reports suggested delays were short.
People without valid photo ID are refused entry. The border checks are the first of their kind between the two countries for over half a century.
I've used the #Oresund bridge many times over the years. Great easily flipping between 2 amazing countries. These changes are incredibly sad

— Tezzlah (@tezzlah) January 4, 2016
Sweden has taken in more asylum seekers per head than any other European country and says it can no longer cope.
Sweden had expected to accept about 100, 000 newcomers in 2015, but by year's end the figure was almost twice that, and the country said it was struggling to provide essential services for would-be asylum seekers. Sweden's Prime Minister Stefan Lofven said in November that the country's generosity had been "naive."