Africa Eco Race: Ullevalseter and Housieaux claim stage six in Mauritania
Comments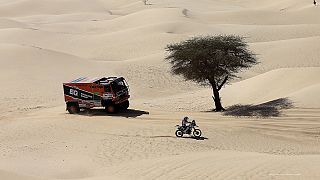 Defending bikes champion Pal Anders Ullevalseter continued his perfect start to the eighth edition of the Africa Eco Race.
The Norwegian rode his KTM to a fifth consecutive victory by winning stage 6 – the bikes skipped the first stage due to safety concerns.
He completed the special stage from Dakhla in Morocco to Chami on the eastern edge of Mauritania ahead of Norbert Dubois in second while Russian Dmitry Agoshkov completed a clean sweep of the podium for KTM.
To no surprise Ullevalseter leads the general standings just under two and a half hours clear of Anastasiya Nifontova on her Husqvarna.
Dominique Housieaux of France claimed his first stage win of this edition in the car category.
The Optimus MD driver negotiated the Mauritanian sands perfectly to beat title contender Kanat Shagirov of Kazakhstan by one minute and 29 seconds.
Crossing over with the third fastest time was another Frenchman Pascal Thomasse who enjoyed his third podium finish from the opening six legs.
Shagirov leads the overall standings 20 minutes clear of Thomasse with six stages left.
Russia's Sergey Kuprianov steered his Kamaz truck to a third win this edition but overall trails compatriot, race leader and defending champ Anton Shibalov by over an hour.