Afghan forces battle insurgents after Indian consulate attack
Comments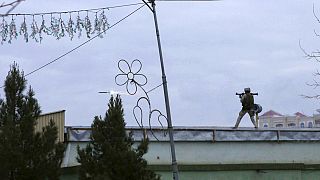 Afghan forces have been battling with insurgents after attacks against an Indian consulate.
A small group of gunmen barricaded themselves in a house after trying and failing to break into the Indian diplomatic mission in the northern city of Mazar-i-Sharif on Sunday.
The battle with security forces continued for several hours.
"Our Special Forces and commandos have been deployed in the area and I assure our countrymen that in five minutes time they will eliminate all insurgents," said an Afghan army soldier.
Later the fate of the insurgents was not clear. The governor said all efforts were being made to protect the lives of civilians in the area during the operation.
At least one was injured and five members of the security forces slightly hurt by a hand grenade, but the Indian ambassador said all consular staff were safe.
#MazarAttack: All safe in consulate, Governor Atta Muhammad Noor personally monitoring situation, says Indian envoy Amar Sinha

— Times of India (@timesofindia) January 4, 2016
It's not the first time an Indian mission has been attacked by militants in Afghanistan.
In May 2014 heavily-armed gunmen raided the consulate in Herat.
It's unclear if this current incident and the airbase attack are connected but comes amid renewed efforts to restart peace talks with the Afghan Taliban as part of a broader drive to improve stability in the region.