Indian consulate comes under attack in northern Afghanistan
Comments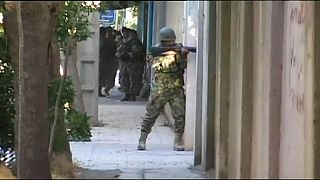 An Indian consulate in northern Afghanistan came under attack on Sunday evening with gunmen attempting to enter the compound.
Afghan security forces drove them back, but are still patrolling the area with the assailants holed up in a nearby building.
No details were immediately available on any casualties or the number of attackers and there's been no claim of responsibility.
The consulate lies in the Afghan city of Mazar-i- Sharif and comes as Indian forces are still trying to suppress an attack on an airbase near the Indian / Pakistan border.
It's not the first time an Indian mission has been attacked by militants in Afghanistan.
In May 2014 heavily-armed gunmen raided the consulate in Herat and the embassy in Kabul has been attacked twice with dozens killed.
It's unclear if this current incident and the airbase attack are connected but comes amid renewed efforts to reduce longstanding tensions between New Delhi and Islamabad and restart peace talks with the Afghan Taliban as part of a broader drive to improve stability in the region.