Israeli forces hunt gunman who killed two in busy Tel Aviv street
Comments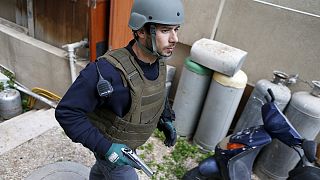 Israeli authorities are hunting a gunman who opened fire in a busy street in Tel Aviv, killing two and injuring at least seven others.
The attacker has been identified by relatives as a member of Israel's Arab minority. The motive is unclear.
The shooting happened on Dizengoff Street, a central area filled with cafes and bars.
The gunman had been looking at items in a health food store, before he pulled out his automatic weapon and opened fire.
David Backal lost his son Alon in the attack. He was working at a bar which suffered the most hits.
"His older brother Avi ran towards him, to the pub, and saw him lying there. It's a minute and a half drive from here. I ran and waited for him here, waited for the ambulance to arrive," explained David.
"As soon as the ambulance arrived and I saw the kid, I fainted because I saw that he was not alive."
The shootings have ramped up tensions after three months of Palestinian street violence.
Arabs, many of them Muslim, make up 20 percent of Israel's population. While they broadly sympathise with Palestinians, they rarely take up arms against the country or its majority Jews.