Tel Aviv: deadly shooting in bar evokes memories of Paris
Comments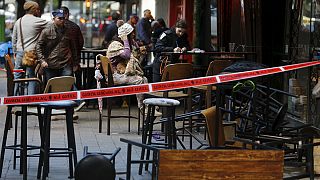 A busy bar, café and restaurant targeted
At least two dead
Up to seven injured, two critical
Attacker an "Israeli Arab", police search family home
At least two people have been killed and seven injured during a shooting in a bar in central Tel Aviv.
I remember what happened in Paris
Armed police are searching the area for the suspect, who is still at large.
CCTV cameras captured the moment the gunman opened fire.
CCTV of Tel Aviv shooting attack pic.twitter.com/OkU4LdfBNa

— Rebecca Griffin (@dorothyofisrael) 1 Janvier 2016
Two killed, five wounded, in Tel Aviv shooting. Photos Jack Guez pic.twitter.com/tT7aAfVgp6

—

AFP

Photo Department (@AFPphoto) 1 Janvier 2016
Tel Aviv: "The tables fell down and we tried to hide ourselves somehow behind the tables," says witness #TelAvivhttps://t.co/HK2y8ROorA

— Middle East Eye (@MiddleEastEye) 1 Janvier 2016
Massive manhunt on-going for terrorist who opened fire at bar in Tel-Aviv this afternoon killing 2, wounding 7. pic.twitter.com/EFEkCIuURz

— Israel Breaking (@IsraelBreaking) 1 Janvier 2016
#Israel : fusillade mortelle dans un bar de Tel-Aviv
https://t.co/VgpFhUMLB4pic.twitter.com/D3hCWrzDZH

— Yahoo Actualités (@YahooActuFR) 1 Janvier 2016
Up-Close photo of suspect in mass-shooting in Tel-Aviv today killing 2, wounding 7, multiple in critical condition. pic.twitter.com/X4zTQez7A9

— Israel Breaking (@IsraelBreaking) 1 Janvier 2016
Attentat en Israël : au moins deux morts dans un bar à Tel-Aviv https://t.co/ZJER8Qdq9wpic.twitter.com/74mgBw0r0p

— Sud Ouest (@sudouest) 1 Janvier 2016
"It reminded me of Paris"
The gunman targeted customers at a cafe, bar and restaurant near a shopping centre in Dizengoff Street in the city. The area is often busy on Friday afternoons.
CCTV footage from a nearby convenience store showed the presumed attacker calmly buying snacks of fruit and nuts before leaving and opening fire.
Eyewitnesses say the frightening scenes are reminiscent of the recent attacks in Paris.
"I have a beauty salon here and I hid myself under the bar," said one woman. "I fell and I waited around 30 seconds, it was horrible. I was afraid for my mother, for everyone. I remember what happened in Paris."
Suspect identified by family
Media reports suggest the gunman, who is still at large, is an Israeli Arab whose father recognised him from CCTV footage.
A search is underway at the family home in Wadi Ara near the northern town of Haifa.
A wave of recent attacks
It is not clear why the attack was carried out. It comes in the wake of a wave of inter-ethnic violence over the past few months.
At least 21 Israelis have been killed in stabbings and shootings carried out by Palestinians.
131 Palestinians have died. Israel says more than half were presumed attackers while the others were killed in clashes with security forces.
Speaking last November, US Secretary of State John Kerry condemned the attacks as acts of terror.