Ukraine crisis: Minsk peace deal extended into new year
Comments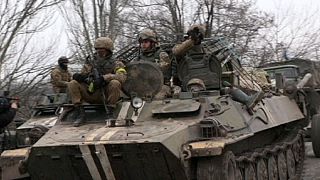 The Minsk peace accord on Ukraine has been extended into 2016.
The Kremlin says it was agreed following a phone call between the leaders of Russia, Ukraine, France and Germany.
The extension was widely expected. A ceasefire has been broadly holding in eastern Ukraine since September.
But there have been sporadic clashes between pro-Russian separatists and Ukrainian government forces. And many of the agreement's terms are far from being implemented.
The original aspects of the Minsk deal were expected to be in force by the end of this year, with the aim of restoring Ukraine's full control over its border with Russia.
The Kremlin statement said that the four leaders had agreed on the need for full observance of a ceasefire and had also backed more active discussions by the Ukraine Contact Group, aimed at the rapid adoption of a law relating to regional elections in rebel-held areas.
Talks between the four leaders take place regularly as their countries are the co-signatories of the Minsk peace deal.