Riot police fire water cannon on protesters in Diyarbakir
Comments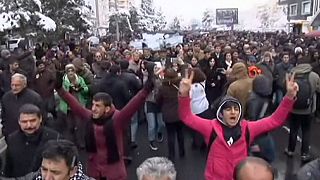 In Diyarbakir in the south east of Turkey, Kurds angry at the ongoing government military operations and curfew in the region took to the streets.
Riot police fired water cannon into the crowds on the snow covered streets. The town's historic Sur neighbourhood which has been a flashpoint in the government's operation against Kurdistan Workers Party (PKK) militants has been under a 24-hour curfew since mid-December.
Turkish military tanks also pounded PKK targets in Cizre a town at the heart of the military operation in which President Recep Tayyip Erdogan has pledged to root out Kurdish militants in the region. In his New Year statement the president vowed there would be no let up.
"In 2015, the number of terrorists who were neutralised during operations, both inside and outside the country, is three thousand one hundred. Our greatest source of sadness is the two hundred security officials who were martyred, as well as citizens who died in those events," he said.
The PKK Kurdistan Workers Party – deemed a terrorist organisation by Turkey and the European Union – is the main target of the government backed strikes.
There are claims by the Kurdish Firat News Agency – backed up by a video – that eight Turkish officers are being held "under arrest" in what they called "guerrilla areas in South Kurdistan territory".