Killers of Bangladesh blogger are given death penalty
Comments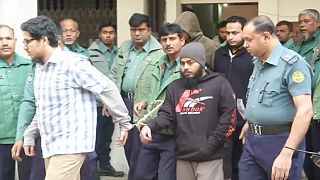 Two former students were sentenced to death in Bangladesh on Thursday for the murder of a secular blogger in 2013.
Only one of the pair was present in court in Dhaka. The other was tried in absentia.
But six further defendants were given jail terms for involvement in the killing of Ahmed Rajib Haider who was hacked to death in February 2013 near his home in the capital.
Haider had led a popular movement against Islamist leaders accused of atrocities in Bangladesh's 1971 war of independence.
Reacting to the sentences, Faruk Ahmed, the lawyer representing those on trial, said his clients would appeal to the Supreme Court.
One of the men jailed is said by police to head the militant group, Ansarullah Bangla, suspected of being behind the attack.
Amidst a rise in Islamist violence, these were the first court verdicts in a wave of attacks targeting secular activists in Bangladesh.
In 2015, four more bloggers and a publisher were also killed in the country.
Bloggers in Bangladesh are paying a heavy price for their secularism. https://t.co/ueej9RSowLpic.twitter.com/w6chIMOAk3

— NYT Magazine (@NYTmag) 29 Décembre 2015