Cubans mark Revolution anniversary, as world celebrates new year
Comments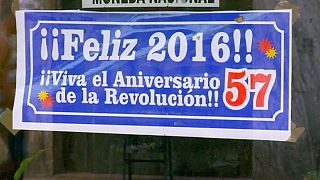 As the world celebrates the start of a new year, Cubans are also marking the 57th anniversary of the Revolution.
The past twelve months have been significant here – 2015 was a year that saw the historic resumption of diplomatic relations between Cuba and the United States.
Many are filled with optimism and hope as they look ahead.
"I have always identified with the Revolution," said Magarita Morejon, a librarian in Cuba.
"And so I hope for many good things and that they bring about changes benefiting everyone – us and and our relations with the world and that globally, everything improves."
America cut diplomatic relations with Cuba back in 1959. It came after Fidel Castro and his brother Raul led the revolution. President Fulgencio Batista, backed by America, was toppled. US trade and economic embargoes followed.
Now, all these years on, amid the warming ties, America and Cuba have opened embassies.
There are also agreements on restarting a direct mail service and restoring commercial flights between the two countries.