Angela Merkel outlines the challenges the migrant crisis will bring in 2016
Comments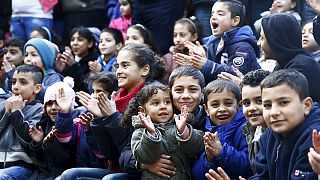 Thousands of migrants and refugees have been streaming into the Presevo reception centre in southern Serbia.
There to greet them activists from the Red Cross and volunteers form humanitarian organisations with New Year's gift packs for the children.
The human tide of refugees heading for Europe has been a story which has dominated the news agenda in 2015.
Germany has been the destination of choice for many arriving by sea while large numbers have arrived from the Balkans.
In her New Year speech Chancellor Angela Merkel addressed the challenges which 2016 will bring.
"There is no question that the influx of so many people will still demand more from us. It will take time, effort and money. Our values, our traditions, our understanding of the law, our language, our rules and regulations all of these things underpin our society and are fundamental requirements for the positive and mutually respectful coexistence of all the people in our country," she said.
In Greece three ferries arrived in the port of Piraeus on New Year's Eve from three islands with 3,600 refugees on board.
Local media sources say most were of Afghan origin with the majority being women and young children some of whom it was reported were unaccompanied.