Russian ruble scrapes new low, no happier for 2016
Comments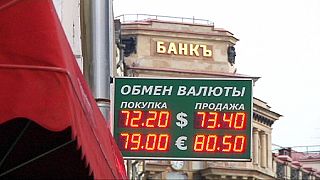 The Russian ruble on the last currency trading day of the year has hit a new 2015 low against the US dollar, at one point falling to 73.20 to the greenback.
Weaker oil prices since mid-2014 mean the ruble has more than halved in value against the dollar. The other major cause is external financing restrictions—part of Western sanctions over Moscow's role in the Ukraine crisis.
Yet ordinary Muscovites did not seem worried, one saying: "It's a normal, dynamic process, which is how it should be. The exchange rate's the same as the situation in the country. There's nothing strange in it. We'll survive."
Another ventured: "Of course, it is harder for those travelling to Europe, but for most people it doesn't matter if the exchange rate grows or not."
The forecast is not good, with Brent crude reaching an 11-year low this month, overshadowing the recovery of Russia's oil-dependent economy. Its 2016 budget was calculated on an oil price of $50 per barrel, and the price has been hovering around $37.
Moscow has said the ruble's volatility, rather than value, makes budget planning difficult.